Ive always loved theses little 675 triples they have serious bang for buck appeal and the best thing is there so easy to wheelie . The 675 / triple engine have the touque of a twin and power of a in line 4 and in my eyes there would be a serious toss up between one of these and a new Yamaha Tracer .
Robbie from megabikes in dublin dropped his 2011 Triumph Street Triple R to me and was looking to see if there was anything that could be done to increase the performance of the already punchy 675 engine . Robbie had owned the previous version of the Triumph 675 and was saying it hadnt got the same feel / throttle responce as the older version . To be honest the bike looked sharp enough to me when i was out riding with rob as the front wheel was rarely in contact with the tarmac !!!!
What was done :
Firstly i read the ECU to find that the bikes ECU had been flashed before with a "generic" flash which matched the bikes configuration (arrow end cans K&N Air filter ) , it was ok to start with but was definetly in need of some tlc / customising  . The bike was then run on the dyno sweep tested(%100 throttle) step tested( %25 & %50 throttle ) and basline figures were taken . The Triumph was running quite well and i had a good starting point to improve from .
Firstly I concentrated on the partial throttle openings, then I remove the ignition restrictions in the lower gears and with an  increase in power and torque figures as shown below (%25 throttle). Quite a nice gain at such low throttle position , 6 bhp over a "generic" flash .
Red = before
Blue – after
---
When the lower throttle openings where customised (0-30% ) the upper and wot (wide open throttle ) are then adjusted . Below the first graph shows before and after results of a %50 throttle step test and the second graph shows the wide open sweep test results of the ( On dyno custom flash service). 
Blue = Before
Red = After
Red = before
Blue = After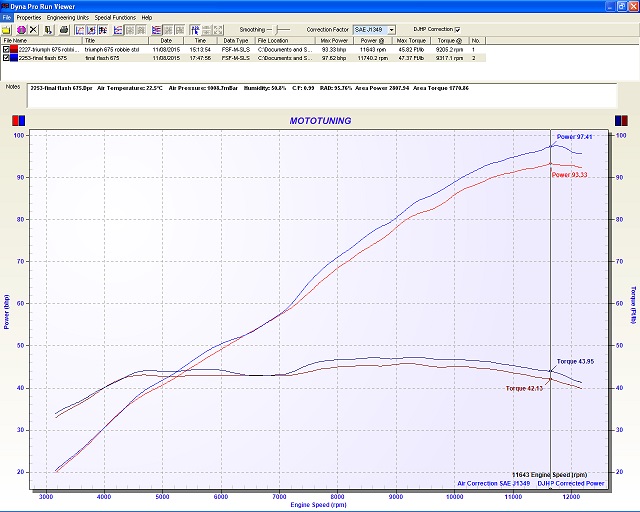 ---
The cost :
Option 1 : Post in your ECU, contact me with the spec (exhaust, air filter, etc) and I can flash the ECU without the bike. Flashed with dyno built maps       Price :€350
Option 2 :Ride in get your ECU flashed to pre configured on dyno flashes to suit your bikes configuration whether it be a full exhaust system , slip on end can or high flow air filter etc   Price: €350
Option 3 : Bring your bike for a custom ECU flash – this is what we did with robbies bike. Dyno print outs before and after and your bike fully customised for optimum performance / efficiency . Price:€400
Customer testimonial:
Robbie dixon (megabikes Dublin);
I recently left my Triumph Street Triple R 675 in the good hands of Gary at mototuning.ie
My bike is fit with arrow exhaust end cans and a k&n filter . It was always a bit rough down low and never as sharp or aggressive on acceleration as I new it was capable of . These engines ( and most engines ) have a lot more to give and ecu's can be governed by the manufactures to meet strict emissions etc .
I dropped my bike to Gary & had booked it in for a run on the dyno & custom ecu flash and the results spoke for themselves . There were gains on power all round , down low & mid range in particular .
The bike is now so smooth & sharp on acceleration , there also seems to be a lot more range in the gears . All in all I'm very happy with the service from Gary & how the bike has been running since .
Robbie
[youtube]https://www.youtube.com/watch?v=ci6HSsWdUb8[/youtube]